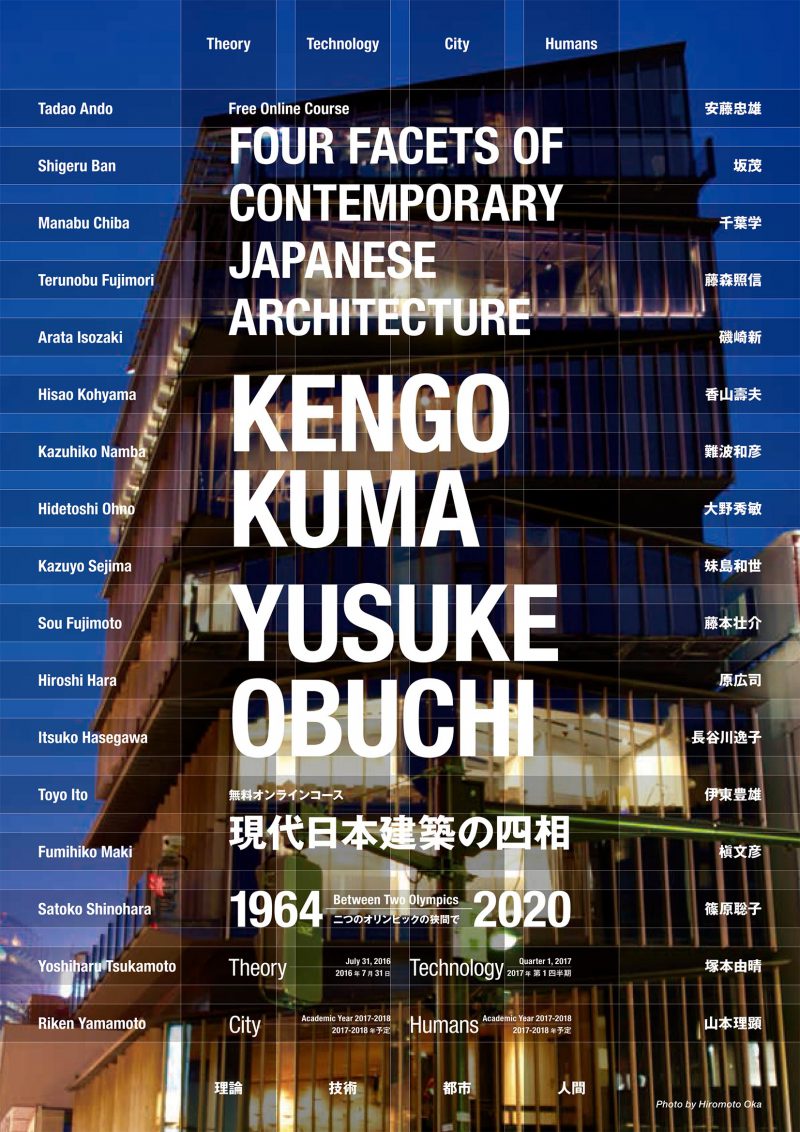 Free Online Course FOUR FACETS OF CONTEMPORARY JAPANESE ARCHITECTURE — BETWEEN TWO OLYMPICS First Facet: Theory
無料オンラインコース 現代日本建築の四相 — 二つのオリンピックの狭間で 第一相:理論
T_ADSの隈研吾教授と小渕祐介准教授が講師をつとめる無料オンラインコース「現代日本建築の四相 — 二つのオリンピックの狭間で」の第一相「理論」が、 2016年7月31日より順次公開されます。 [コースページ] Four Facets of Contemporary Japanese Architecture: Theory [視聴方法ガイド]
本コースでは、「理論」「技術」「都市」「人間」の四相から戦後の日本建築の多様性を見直すことによって、現代につながる持続的な問題意識として建築を考えます。多様性を生み出した日本を代表する建築家自身による作品解説とインタビューを通じて、現代日本建築を再解釈するとともに、これからの建築が向かうべき方向性を探ります。
第一相「理論」配信予定と出演建築家 7月31日 イントロダクション(代々木国立競技場) 8月07日 磯崎新 香山壽夫 8月14日 藤森照信 大野秀敏 8月21日 隈研吾 妹島和世 8月28日 まとめ
本コースは、2012年にハーバード大学とMITにより設立されたMOOC(Massive Open Online Course)プロバイダーであるedX(エデックス)から提供され、無料登録により世界中の誰でも視聴することができます(希望により有料の修了証も取得できます)。なお本コースは、日本語音声+英語字幕で配信されます。
Course instructors Kengo Kuma and Yusuke Obuchi have invited other leading Japanese architects to participate. Materials are delivered in Japanese with English subtitles. Framed between the two Tokyo Olympics of 1964 and 2020, this series will explore and reflect on the diversity of contemporary Japanese architecture by focusing on four facets: theory, technology, city, and humans. Through lectures by instructors and discussions with some of the most influential Japanese architects, the course will trace the development of contemporary Japanese architecture and will consider its future direction.
First Facet: Theory
Course Schedule (by week):
July 31: Introduction
August 7: Arata Isozaki, Hisao Kohyama
August 14: Terunobu Fujimori, Hidetoshi Ohno
August 21: Kengo Kuma, Kazuyo Sejima
August 28: Conclusion
For additional details and enrollment, please visit the
course page
.
This course has been made available via edX, a MOOC (Massive Open Online Course) provider established in 2012 by partner university MIT. Registration is free and is open worldwide (official course completion certificates available for a fee). This course is presented in Japanese with English subtitles.
東京大学プレスリリース: Press release from the University of Tokyo: http://www.u-tokyo.ac.jp/ja/news/notices/notices_z0801_00002.html