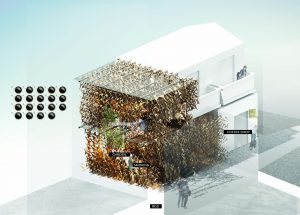 Students
Professor
Course Assistants
Used coffee grounds are collected from Tokyo's coffee shops. The grounds are aggregated and solidified into components before being used as odor-absorbing architecture to transform alleyways.
使用済みのコーヒーかすを、東京のコーヒーショップから収集します。コーヒーかすは硬化してコンポーネントとし、匂いを吸収する建築として路地空間に使用します。
Used coffee grounds are the raw material for the proposal. There are many coffee shops in Tokyo, and these grounds could be aggregated on an urban scale to produce a new resource.
使用済みコーヒーかすを原料とします。東京には多くのコーヒーショップがあるため、これらのかすを都市スケールで集積し、新しい資源とします。
The coffee grounds, when collected, are solidified and created into a component. The components are organized together into box-like formations to create architecture.
コーヒーかすは集められた後、硬化させ、コンポーネントになります。コンポーネントは、建築を形成するために、箱状に積み上げられます。
The architecture creates a unique gathering space that intends to transform Tokyo's alleyways.
この建築は、東京の路地を有効に活用するためのユニークな集いの空間を生み出します。
The architecture, in addition to being visually interesting, is also odor-absorbing due to the coffee content of the proposal. This aids in creating a more pleasant experience in alleys.
この建築は、視覚的に興味深いだけでなく、コーヒーかす素材によって匂いを吸収します。このことは、路地での経験をより気持が良いものにするのに役立ちます。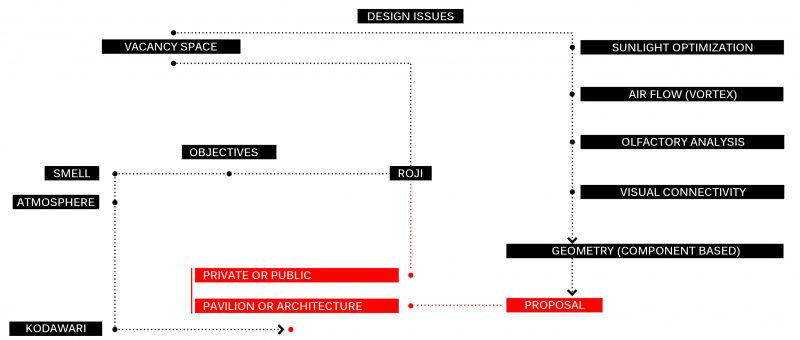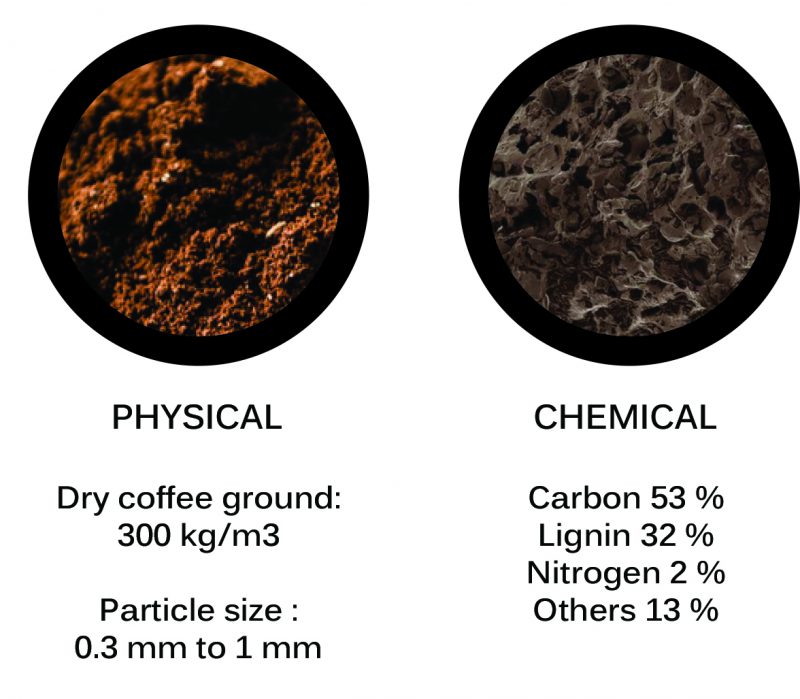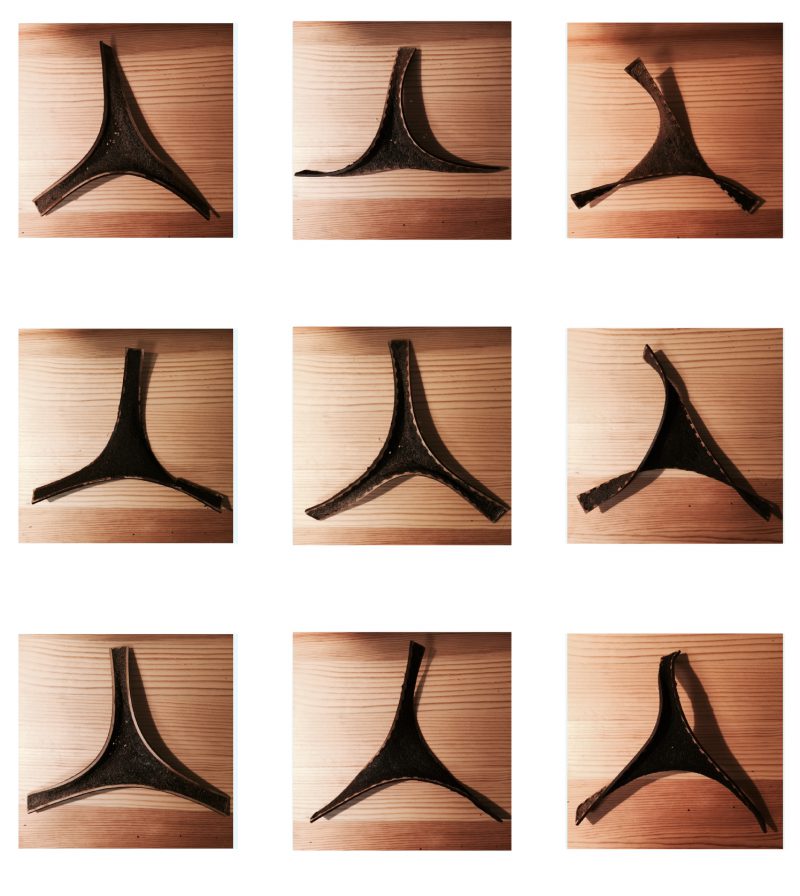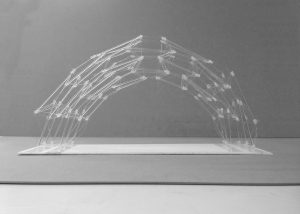 Students
Professor
Course Assistants
Waste food at convenience stores is collected and transformed into a bioplastic material. This bioplastic can be used to create architecture.
コンビニエンスストアで廃棄食品を収集し、バイオ・プラスチック素材として再利用します。このバイオ・プラスチックを建築で使用します。
Waste food collected from convenience stores is collected. A large amount of food is wasted every day at Tokyo convenience stores and the waste has potential as a resource.
コンビニエンスストアから集めた廃棄食品を活用します。毎日、多量の食糧が東京のコンビニから廃棄されており、資源としての可能性があります。
The material is transformed into a bioplastic which hardens after a period of time.
材料は、一定の時間が経つと硬化するバイオ・プラスチックに変換されます。
The bioplastic is used with a 3D drawing pen and architecture can be "drawn" by a user.
バイオ・プラスチックは、 3 D描画ペンによって用いられ、ユーザーが建築を「描く」ことができます。
The project proposes a use for waste food and in creating the temporary architecture, produces a community gathering space.
このプロジェクトは、食品廃棄物の再利用した仮説建築によって、近隣コミュニティーの人々が集まることのできるスペースを提供します。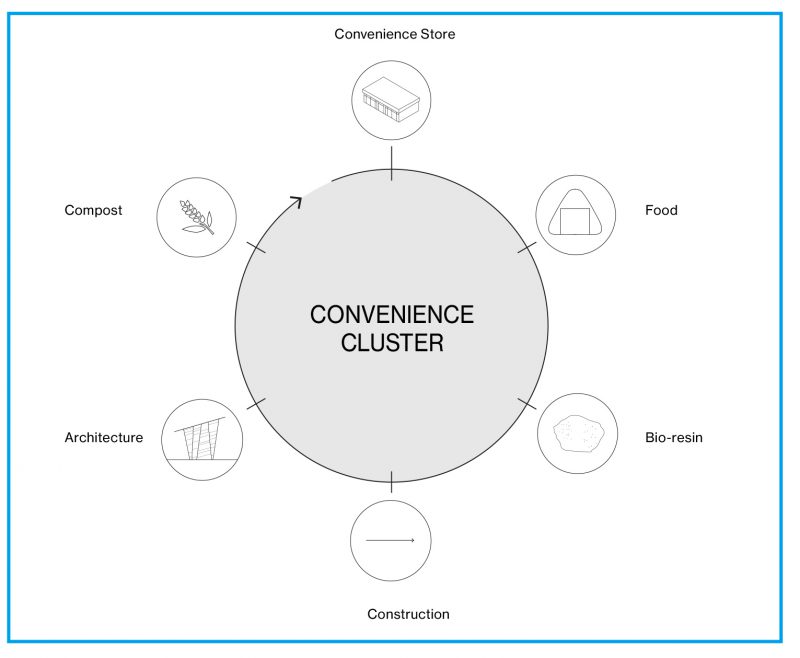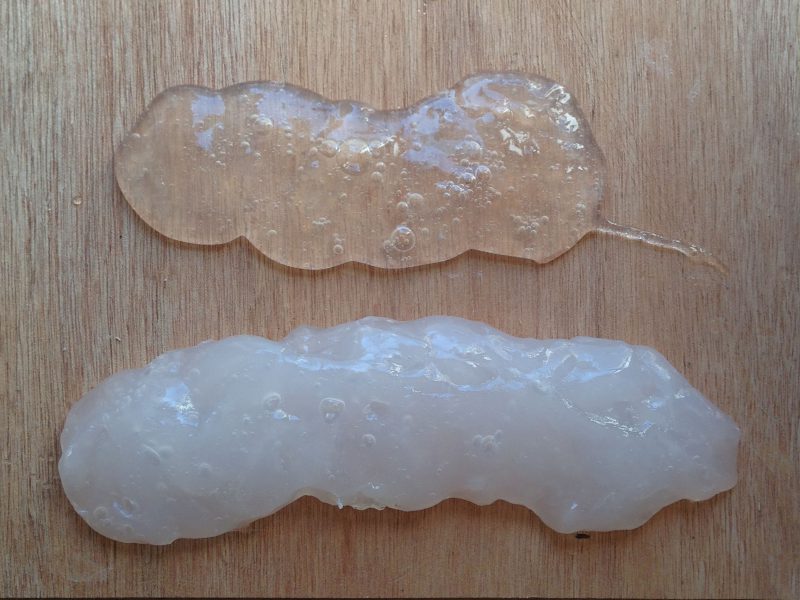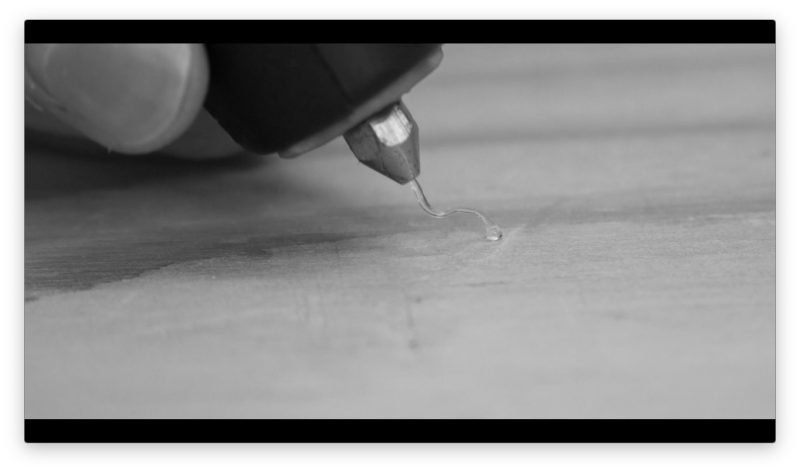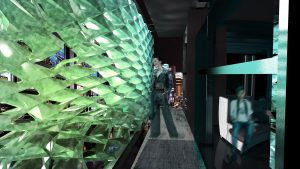 Students
Benjamin Berwick
Yanli Xiong
Professor
Course Assistants
Hair is collected from Tokyo hair salons. The material is gathered and punched to produce components, and is then assembled to create an adaptive shade for apartments.
毛髪を東京の美容院から収集します。毛髪を圧縮してコンポーネントを形成し、集合住宅に適応する日除けをつくります。
The raw material for the project is hair collected from Tokyo hair salons. The clippings are usually thrown away, but on the urban scale and through aggregation, the hair is a potential resource.
プロジェクトの原料は、東京の美容院から収集した毛髪です。切り刻まれた毛髪は通常廃棄されますが、都市的な規模で集約することにより、資源となる可能性があります。
The hair is punched to create a fabric-like material after it is aggregated. Components can then be created from the material in a folding pattern.
毛髪は、生地のような素材に変換するため圧縮されます。出来上がったコンポーネントで、折り畳みパターンをつくります。
A series of folded components are fit together to produce a canopy which can be moved and repositioned as the user sees fit.
一連の折り畳みコンポーネントは、寄り集まって可動の日除けになります。ユーザーは、ふさわしい位置にそれを動かすことができます。
The canopy provides shade, but it also allows the owner of the canopy to personalize the façade of their balcony (upon which the canopy is placed).
日除けを動かすことによって、所有者は、集合住宅のファサードをカスタマイズすることができます。