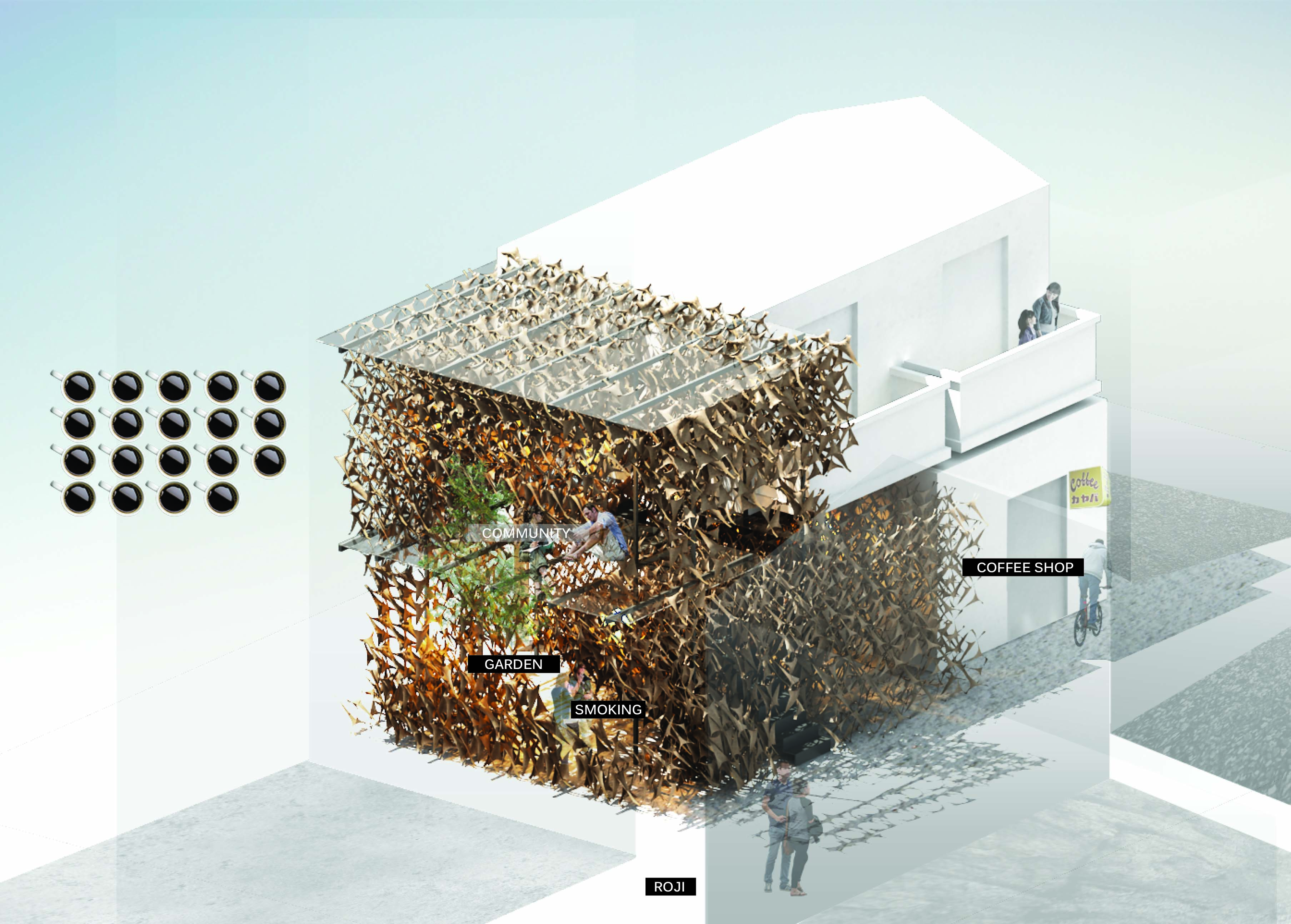 INTIMACY CLOUD
Students
Professor
Course Assistants
Used coffee grounds are collected from Tokyo's coffee shops. The grounds are aggregated and solidified into components before being used as odor-absorbing architecture to transform alleyways.
使用済みのコーヒーかすを、東京のコーヒーショップから収集します。コーヒーかすは硬化してコンポーネントとし、匂いを吸収する建築として路地空間に使用します。
Used coffee grounds are the raw material for the proposal. There are many coffee shops in Tokyo, and these grounds could be aggregated on an urban scale to produce a new resource.
使用済みコーヒーかすを原料とします。東京には多くのコーヒーショップがあるため、これらのかすを都市スケールで集積し、新しい資源とします。
The coffee grounds, when collected, are solidified and created into a component. The components are organized together into box-like formations to create architecture.
コーヒーかすは集められた後、硬化させ、コンポーネントになります。コンポーネントは、建築を形成するために、箱状に積み上げられます。
The architecture creates a unique gathering space that intends to transform Tokyo's alleyways.
この建築は、東京の路地を有効に活用するためのユニークな集いの空間を生み出します。
The architecture, in addition to being visually interesting, is also odor-absorbing due to the coffee content of the proposal. This aids in creating a more pleasant experience in alleys.
この建築は、視覚的に興味深いだけでなく、コーヒーかす素材によって匂いを吸収します。このことは、路地での経験をより気持が良いものにするのに役立ちます。