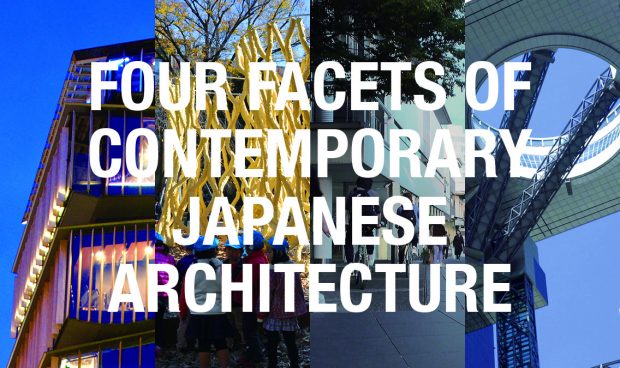 Four Facets of Contemporary Japanese Architecture XSeries Program has started at edX.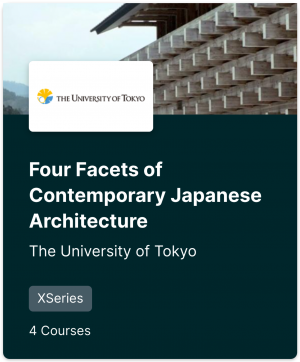 In this XSeries, you can take all four courses in the "Four Facets of Contemporary Japanese Architecture" series: "1st Facet: Theory," "2nd Facet: Technology," "3rd Facet: City," and "4th Facet: Humans". In the paid course [Verified Track], you will receive a certificate of completion by answering comprehension quizzes, but you can also view all lecture videos in the free course [Audit Track].
In this series, we have looked back on the turbulent half-century since Japan's reconstruction after World War II, focusing on the four facets of architecture, together with the architects involved. We hope that many people will find it useful as a resource for considering the future of architecture and humanity.
Contents
FOUR FACETS OF CONTEMPORARY JAPANESE ARCHITECTURE: Theory1-1. Revisiting Kenzo Tange, Yoyogi 1st Gymnasium (1964)1-2. In Search of a Space – Arata Isozaki, The Museum of Modern Art, Gunma (1974)1-3. Learning from Style – Hisao Kohyama, Sainokuni Saitama Arts Theater (1994)1-4. New Primitivism – Terunobu Fujimori, La Collina Omihachiman (2014)1-5. Connecting the Dots – Hidetoshi Ohno, Heart Nursery School (2014)1-6. Architect without Architecture – Kengo Kuma, Asakusa Culture Tourist Information Center (2012)1-7. Too Large As Architecture Too Small As City – Kazuyo Sejima, Inujima "Art House Project" (2010-)1-8. Review – 1st Facet: Theory
FOUR FACETS OF CONTEMPORARY JAPANESE ARCHITECTURE: Technology2-1. Architecture Lives Inside People – Tadao Ando, Atelier in Oyodo II (1991)2-2. Advancing Systemic Spaces – Kazuhiko Namba, BOXHOUSE 112 (2006)2-3. What Do You Want, Wood? – Shigeru Ban, La Seine Musicale (2017)2-4. Why I Went to Countryside? – Kengo Kuma, Yusuhara Wooden Bridge Museum (2010)2-5. Design by Reinterpretation – Manabu Chiba, KOGAKUIN UNIVERSITY 125TH MEMORIAL EDUCATION CENTER (2012)2-6. In Praise of Errors – Yusuke Obuchi, DFL Pavilion (2015)2-7. Review – 2nd Facet: Technology
FOUR FACETS OF CONTEMPORARY JAPANESE ARCHITECTURE: City3-1. Architectures in Unconditional Love – Fumihiko Maki, Hillside Terrace (1969-1992)3-2. Architecture for the People – Itsuko Hasegawa, Niigata City Performing Arts Center (1998)3-3. Transparency: Literal & Behavioral – Riken Yamamoto, Saitama Prefectural University (1999)3-4. Worldly Architecture – Kengo Kuma, Nagaoka City Hall Aore (2012)3-5. Towards an Architecture of Emancipation – Jun Aoki, Omiyamae Gymnasium (2014)3-6. architecture After Architecture – Atelier Bow-Wow, Koisuru-Buta Laboratory (2012)3-7. Review – 3rd Facet: City
FOUR FACETS OF CONTEMPORARY JAPANESE ARCHITECTURE: Humans4-1. Architecture is Fiction – Hiroshi Hara, Hara House (1974)4-2. Constructing From Subconscious Images – Toyo Ito, Toyo Ito Museum of Architecture, Imabari (2011)4-3. Towards an Architecture of Interiority – Osamu Ishiyama, Gen An (1975)4-4. Living Room of the City – Kengo Kuma, V&A Dundee (2018)4-5. A House for Living Together – Satoko Shinohara, SHARE yaraicho (2012)4-6. Respect the World – Sou Fujimoto, SHIROIYA HOTEL (2020)4-7. Review – Kengo Kuma & Yusuke Obuchi, Japan National Stadium (2019)
Online courses from The University of Tokyo: https://www.edx.org/school/utokyoxIntroduction Page on the T—ADS Website: https://t-ads.org/mooc
オンライン講座「現代日本建築の四相—二つのオリンピックの狭間で」Xシリーズ スタート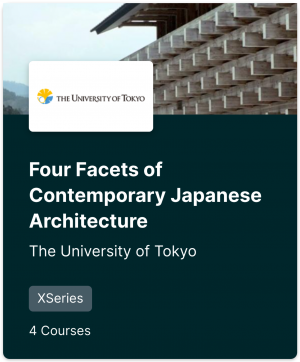 このXシリーズでは、オンライン講座「現代日本建築の四相」シリーズの4つの講座「第一相:理論」「第二相:技術」「第三相:都市」「第四相:人間」のすべてを受講できます。有料コースでは、理解度を試すクイズに答えることで修了証を受けられますが、無料コースでも、すべての講義映像を視聴できます。
このシリーズでは、戦後の高度成長から現在にいたる日本の激動の半世紀を、建築の四つの相に着目して、その当事者であった建築家とともに振り返ってきました。ぜひ、これからの建築と人間の進む道を考えるための資料として、多くの方に役立てていただけることを願っています。
出演建築家
第一相:理論磯崎新、香山壽夫、藤森照信、大野秀敏、隈研吾、妹島和世
第二相:技術安藤忠雄、難波和彦、坂茂、隈研吾、千葉学、小渕祐介
第三相:都市槇文彦、長谷川逸子、山本理顕、隈研吾、青木淳、アトリエ・ワン(塚本由晴・貝島桃代)
第四相:人間原広司、伊東豊雄、石山修武、隈研吾、篠原聡子、藤本壮介
edXの東京大学サイト:https://www.edx.org/school/utokyoxT—ADS内の紹介ページ:https://t-ads.org/mooc