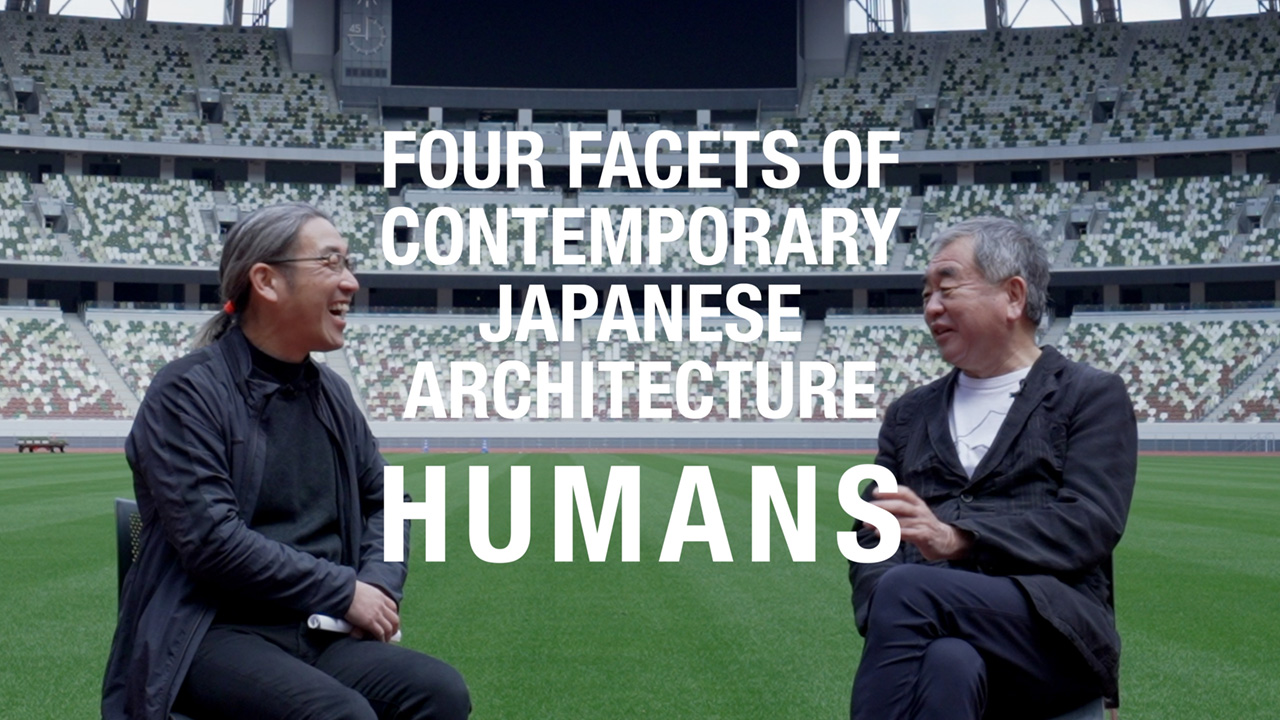 "Four Facets of Contemporary Japanese Architecture: Humans"
Free Online Course
FOUR FACETS OF CONTEMPORARY JAPANESE ARCHITECTURE — BETWEEN TWO OLYMPICS
Fourth Facet: Humans
Course Page on edX: Four Facets of Contemporary Japanese Architecture: Humans
Economic miracle, environmental problems, bubble economy and its collapse, information technology and globalization, earthquakes, population decline, pandemic… The nearly 60 years between the two Tokyo Olympics, 1964 and 2021, was a turbulent time for humans in Japan. During this period, how has architecture changed? And what happened to humans that architecture was supposed to have supported?
This course on "Humans" will review the works of those architects who have attempted to conceptualize humans through their architecture and examine the changes over the last half century as well as the issues for the future. Hiroshi Hara, Toyo Ito, Osamu Ishiyama, Kengo Kuma, Satoko Shinohara, and Sou Fujimoto visit their buildings to discuss the ideas behind their respective works.
Course Contents
1. Architecture is Fiction – Hiroshi Hara, Hara House (1974)
2. Constructing From Subconscious Images – Toyo Ito, Toyo Ito Museum of Architecture, Imabari (2011)
3. Towards an Architecture of Interiority – Osamu Ishiyama, Gen An (1975)
4. Living Room of the City – Kengo Kuma, V&A Dundee (2018)
5. A House for Living Together – Satoko Shinohara, SHARE yaraicho (2012)
6. Respect the World – Sou Fujimoto, SHIROIYA HOTEL (2020)
7. Review – Kengo Kuma & Yusuke Obuchi, Japan National Stadium (2019)
This course is the fourth in the series, following "First Facet: Theory," "Second Facet: Technology," and "Third Facet: City," which are currently open to the public.
Free online courses from The University of Tokyo: https://www.edx.org/school/utokyox
Introduction Page on the T—ADS Website: https://t-ads.org/mooc
無料オンラインコース
現代日本建築の四相 — 二つのオリンピックの狭間で
第四相:人間
オンライン講座(MOOC)プラットフォーム edX より公開
Four Facets of Contemporary Japanese Architecture: Humans
高度成長、環境問題、バブル景気とその崩壊、情報化とグローバリズム、震災、人口減少、パンデミック…  1964年と2021年、2回の東京オリンピックの間の日本の約60年間は、人間をとりまく状況が大きく変化した激動の時代でした。この期間に、建築はどう変わったのでしょうか? また、建築が支えていたはずの人間はどうなったのでしょうか? 「人間」をテーマにした今回の講座では、この激動の期間を振り返りながら、建築と人間の現在と未来について考えます。
出演建築家:原広司、伊東豊雄、石山修武、隈研吾、篠原聡子、藤本壮介
このコースは、公開中の「第一相:理論」、「第二相:技術」、「第三相:都市」につづく第四弾です。
edXの東京大学サイト:https://www.edx.org/school/utokyox
T—ADS内の紹介ページ:https://t-ads.org/mooc
Intro Videos