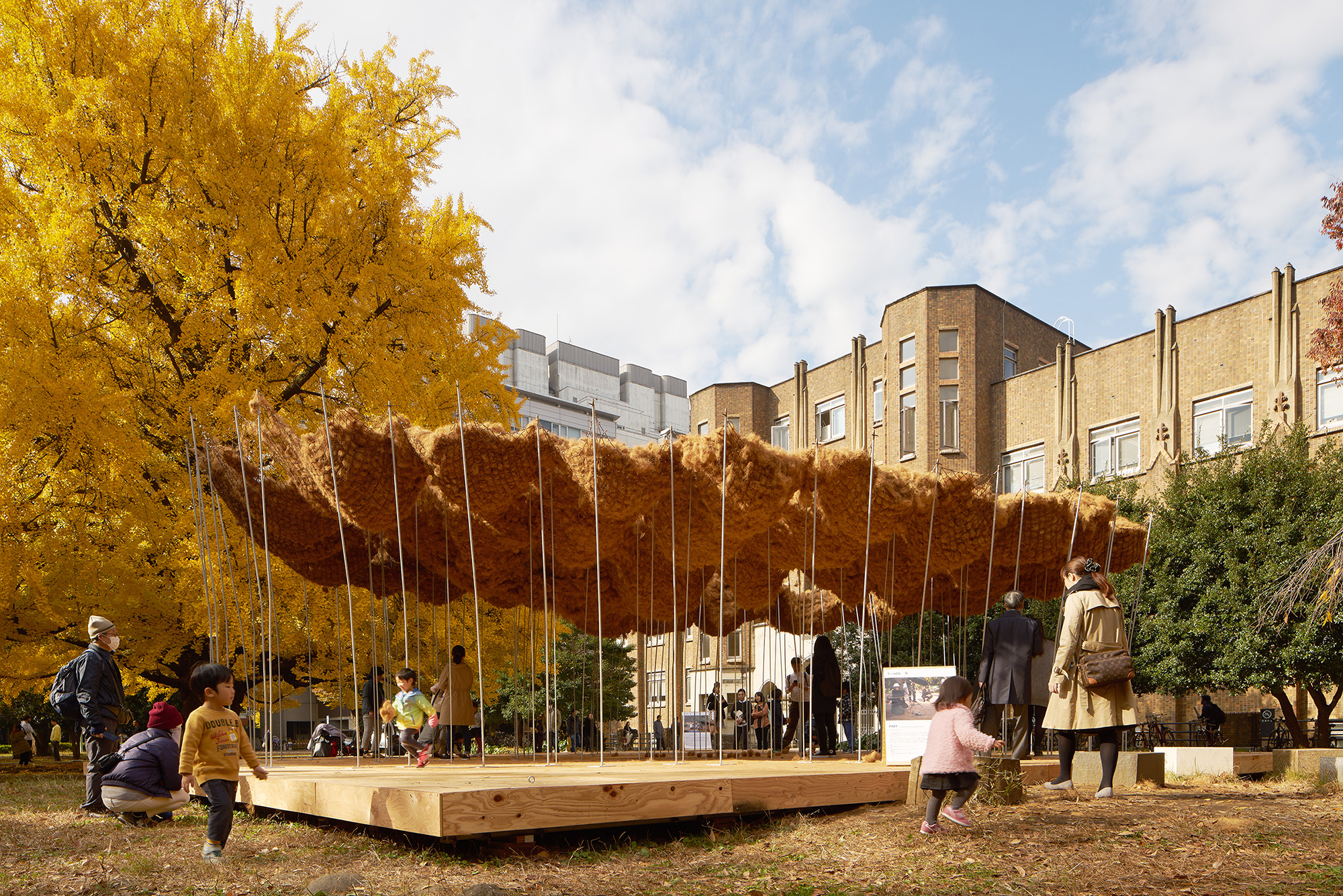 PAVILION: PAFF (PROJECTILE ACOUSTIC FIBRE FOREST)
Can the integration of digital technologies in design and construction processes be used for expressing personal tendencies through the creation of new architectural practices as well as novel aesthetics?
The University of Tokyo Digital Fabrication Lab (DFL) has annually been involved in an experimental pavilion installation, aiming at the application of digital technologies to architectural construction. Its projects are the embodiments of human-machine interaction, demonstrating its unique fabrication systems that make a worker behave as part of a 3D printer; translating human movement into formwork.
At the DFL, we believe that the role played by digital technologies in design and construction does not necessarily have to make them more efficient and streamlined. Their potential is instead focused on personalising the fabrication process. In our view, the act of making as such becomes a design in itself by means of computer assistance. The diversity that humans collectively show is organically expressed in the architecture.
PAFF is an architecture made by reference to sound rather than visual information. We developed a sound guidance system whereby a worker's task is to recognise a sound source in a three-dimensional space, and shoot fibres into various targets. PAFF is expressed through the accumulation of the multi-agent system, revealing personal differences in the way that people perceive space through sound.
Project Credits:
UNIVERSITY OF TOKYO ADVANCED DESIGN STUDIES PROFESSORS
Yusuke Obuchi
Jun Sato
UNIVERSITY OF TOKYO PROJECT MANAGEMENT
Shohei Furuichi
Shuntaro Nozawa
Shuta Takagi
Deborah Lopez Lobato
Hadin Charbel
PROJECT COLLABORATOR
TAISEI CORPORATION
SPONSOR
TAISEI CORPORATION
SECOND YEAR STUDENT TEAM
Mika Kaibara Portugaise
Ziyi Wu
Nathalia Barros Abate Rotelli
Ruta Stankeviciute
Xiaoke Chen
Ao Yang
FIRST YEAR STUDENT TEAM
Ruoyu Chen
Wanting Liu
Yuqing Shi
Anran Wang
Yuxi Zhu
Sher Lin Tan
Otto Lindstam
Sofia Iino Cotado
Dominika Demlova
Priya Murugeswaran
ADDITIONAL SUPPORT
Machiko Asahara
Kyosuke Kawamura
Kota Isobe
PHOTOGRAPHS
Otto Lindstam
Yuqing Shi