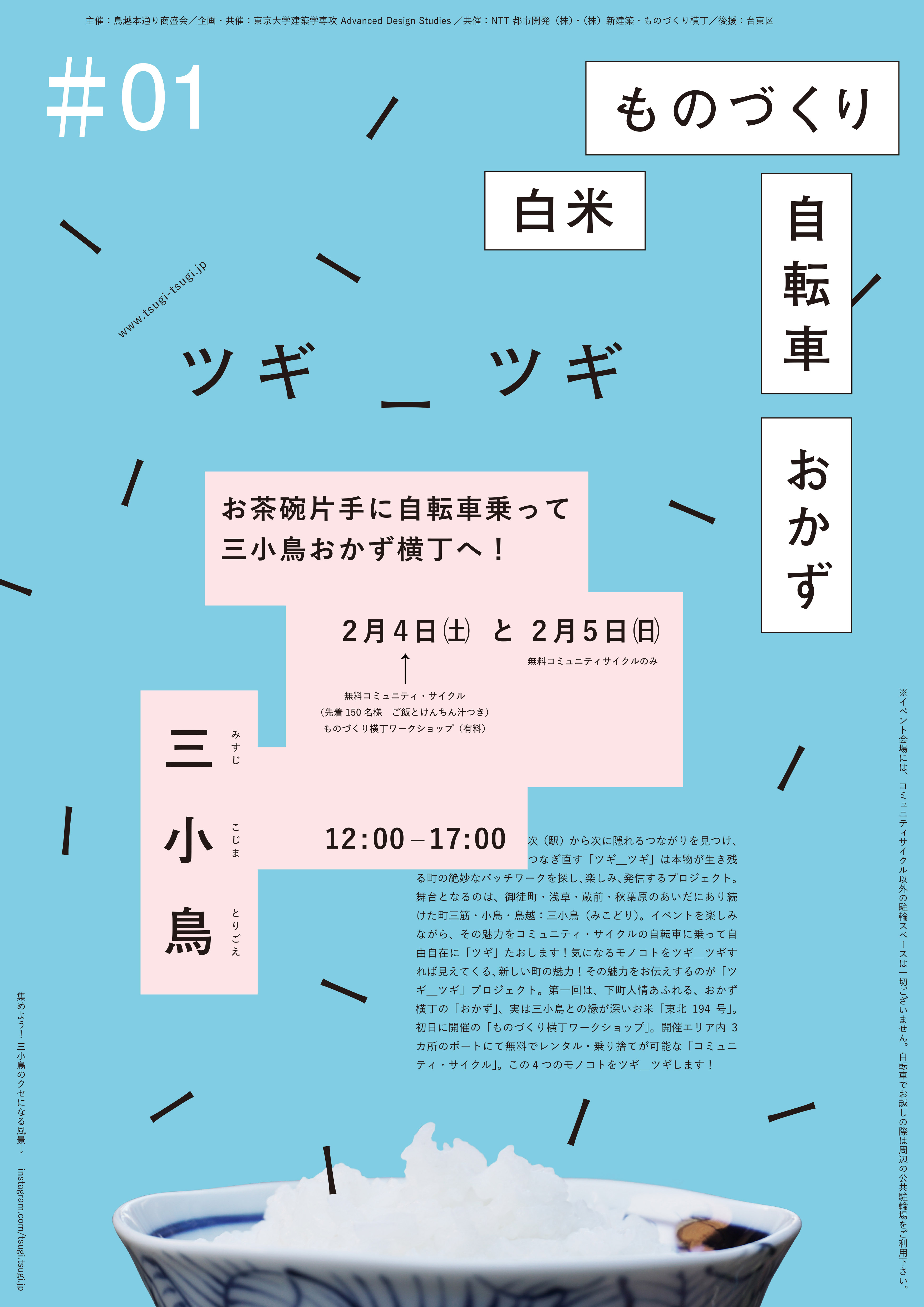 ツギ_ツギ #01 ⽩⽶モノヅクリ⾃転⾞おかず
社会実験イベントのご案内
東京大学建築学専攻Advanced Design Studies(T–ADS)では、文化・経済が複雑に交差する都市を「生態系」として捉え、デザインへ応用することを目指す研究組織Design Think Tank(DTT)を立ち上げ、NTT都市開発、新建築社との共同研究を2015年4月にスタートしました。
このたびDTTでは、その一環として台東区の三筋・小島・鳥越(三小鳥〔ミコドリ〕)において、街の方々と共同で行う社会実験イベント 『ツギ_ツギ #01 白米モノヅクリ自転車おかず』 を開催いたします。
三小鳥〔ミコドリ〕地域は、こだわりの「ものづくり」文化が息づく、知る人ぞ知るエリアで、今回ここで行う実験は、
1.レンタル・乗り捨てができる、無料コミュニティサイクル(自転車)に乗り、
2.おかず横丁で無料ごはん・けんちん汁(先着150名様)と、商店街のおかずをいただき、
3.ものづくり横丁で職人さんの技術も体験(有料)、
4.下町人情あふれる町をぶらぶら巡りながら、お気に入り風景を写真撮影、
5.撮った写真をプロジェクトサイトにアップして無料ホットドリンクをゲット(御徒町と蔵前でそれぞれ先着100名)、心も体も温まる
ことです。
冬の凛とした空気の中、町を巡る気持ちよさと楽しさを感じに、ぜひお越し下さい!皆さんの参加が、三小鳥に満ち溢れている隠れた魅力を、ツギツギと引き出していきます。
イベント詳細
日時: 2月4日(土)12:00-17:00
無料コミュニティサイクル
「ごはんとけんちん汁」プレゼント(先着150名)
ものづくり横丁ワークショップ(有料)
2月5日(日)12:00-17:00
無料コミュニティサイクルのみ
会場:
御徒町サイクルポート 2k540 AKI-OKA ARTISAN 東京都台東区上野五丁目9
鳥越サイクルポート 東京都台東区鳥越1丁目 おかず横丁内
蔵前サイクルポート 東京都台東区蔵前1丁目3-35 NTT 蔵前ビル
主催: 鳥越本通り商盛会
企画: 東京大学建築学専攻Advanced Design Studies
共催: 東京大学建築学専攻Advanced Design Studies NTT都市開発株式会社 株式会社新建築社 ものづくり横丁
後援: 台東区
≫ その他の詳細については http://tsugi-tsugi.jp/ をご覧ください。
Introduction
In the Advanced Design Studies Program (T—ADS) at the University of Tokyo's Department of Architecture, cities are conceptualized as "ecosystems" where culture and economics intersect in a complex way. In April 2015, T—ADS established the Design Think Tank (DTT) research organization, a collaboration with NTT Urban Development Corporation and Shinkenchiku.
DTT's current focus is on a region of Taito ward which encompasses Misuji, Kojima, and Torigoe neighborhoods (nicknamed "Mikodori"). In its first ever exploratory community event, pursued in collaboration with Mikodori residents, DTT is pleased to announce Tsugi Tsugi (One by One) #1: Cycling, Side Dishes, Rice, and Craft.
Concept
The Mikodori area is a place that lives and breathes craft culture; where specialists produce as-yet unfamiliar creations. It will be the hub for this exploration.
1. Ride community-use bicycles for free (regularly available for rent).
2. On Okazu Yokocho (Side Dish Street), free rice and kenchin (vegetable) soup will be given to the first 150 people to arrive. There will be additional side dishes to enjoy on local shopping streets.
3. On Craft Street, participate in a creative experience with a local craftsman (fee required).
4. Take pictures of interesting locations as you wander through the old town area.
5. The first 100 people to upload a photo to the project website will get a free hot drink (in front of Okachimachi and Kuramae stations)!
One by one, we aim to reveal the hidden charms of the Mikodori area. Join us for this fun exploration!
Event Details:
February 4 (Sat) 12:00-17:00
Free community cycle use
Rice + Kenchin soup (first 150 people)
Workshop in Monozukuri Yokocho (fee required)
February 5 (Sunday) 12:00-17:00
Free community cycle use only
Location:
Okachimachi Cycle Port: 2k540 AKI-OKA Artisan
Tokyo-to, Taito-ku, Ueno 5-9
Torigoe Cycle Port: Tokyo-to, Taito-ku, Torigoe 1 (inside Okazu Yokocho)
Kuramae Cycle Port: Tokyo-to, Taito-ku, Kuramae 1-3-35, NTT Kuramae Building
Sponsor: Torigoe Main Street Business Association
Planning: The University of Tokyo, Department of Architecture, Advanced Design studies
In Cooperation with: Advanced Design Studies (The University of Tokyo Department of Architecture), NTT Urban Development Incorporated, Shinkenchiku Incorporated, Monozukuri Yokocho
Supported by: Taito Ward
For other details (in Japanese), please refer to tsugi-tsugi.jp.